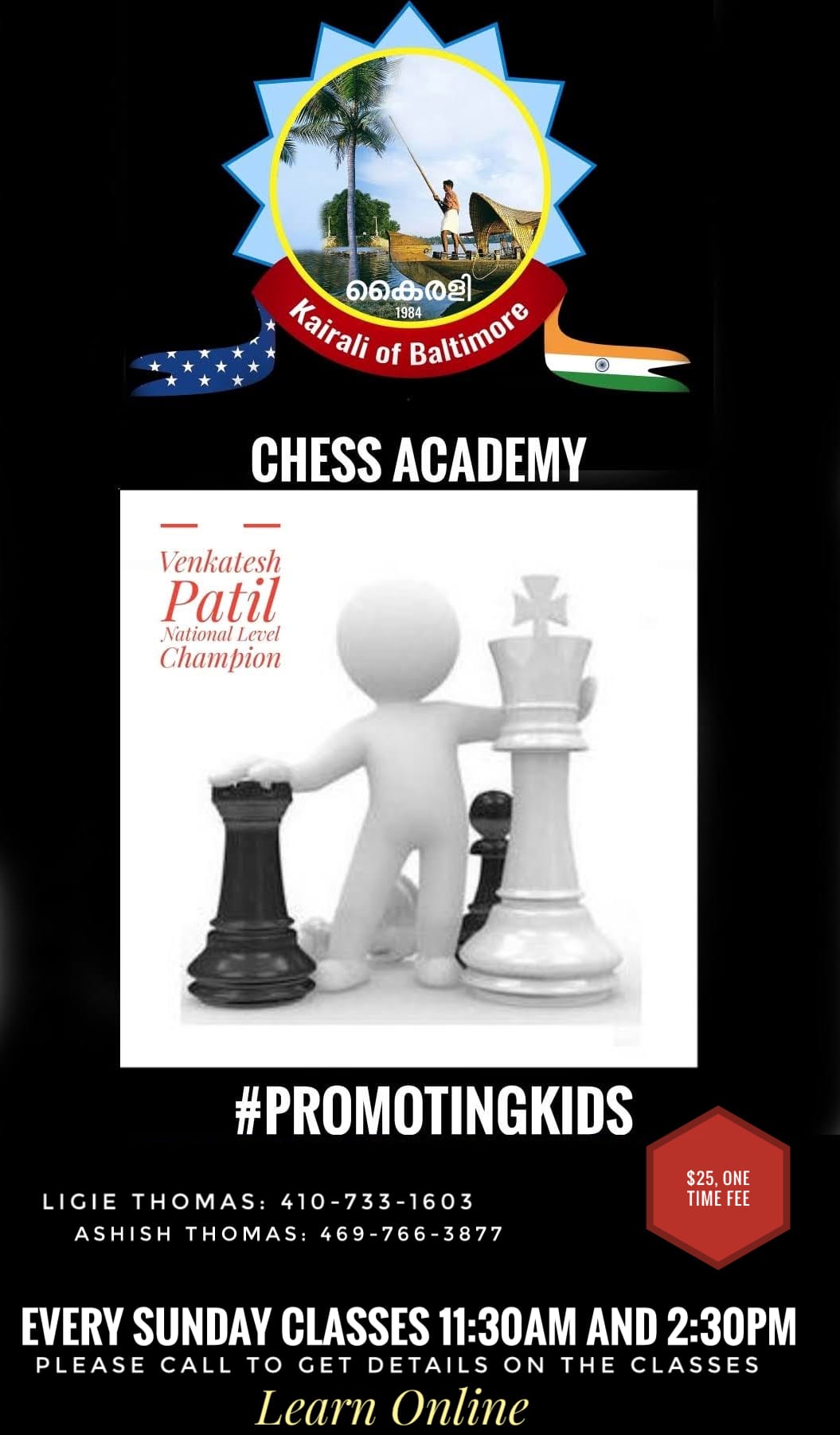 Chess Academy – Virtual Classes
Kairali of Baltimore, a community organization for people of Indian origin in the Baltimore area, is continuing collaboration with Venkatesh Patil, a chess champion, to offer online chess classes to children of its members. The classes will take place every Sunday at 11:30am and 2:00pm and will help kids prepare for chess competitions and improve their overall chess skills.
Venkatesh Patil is a well-known chess champion who has won several state and national-level tournaments. He has also coached several children in the US and helped them improve their chess skills. With this collaboration, Kairali of Baltimore aims to provide its members' children with access to high-quality chess coaching from an experienced and accomplished chess player.
The classes will be held online, making them easily accessible to children who can attend from the comfort of their homes. The classes will be held every Sunday at two different times to accommodate different schedules: 11:30am and 2:00pm. The one-time fee for the classes is $25, which is quite reasonable given the expertise of the coach and the potential benefits of the classes. Parents who are interested in enrolling their children in these classes can contact Ligie Thomas at 410-733-1603 or Ashish Thomas at 469-766-3877 for more information.
Chess is a game that requires strategic thinking and problem-solving skills, making it an excellent activity for children to engage in. By learning chess, children can improve their critical thinking abilities, memory, concentration, and patience. Chess can also help improve academic performance, as the skills required for chess are similar to those required for academic success. Moreover, chess is a game that can be played at any age, making it a valuable skill that children can carry with them throughout their lives. By participating in these classes, children can not only improve their chess skills but also develop a love for the game that can stay with them for years to come.
The collaboration between Kairali of Baltimore and Venkatesh Patil to offer online chess classes to children is an excellent opportunity for children to improve their chess skills and prepare for competitions. The online classes provide flexibility and accessibility, making it easy for children to attend from anywhere. If you're interested in enrolling your child in these classes, be sure to contact Ligie Thomas or Ashish Thomas for more information.
Hourly Schedule
Sundays 11:30am and 2:30pm